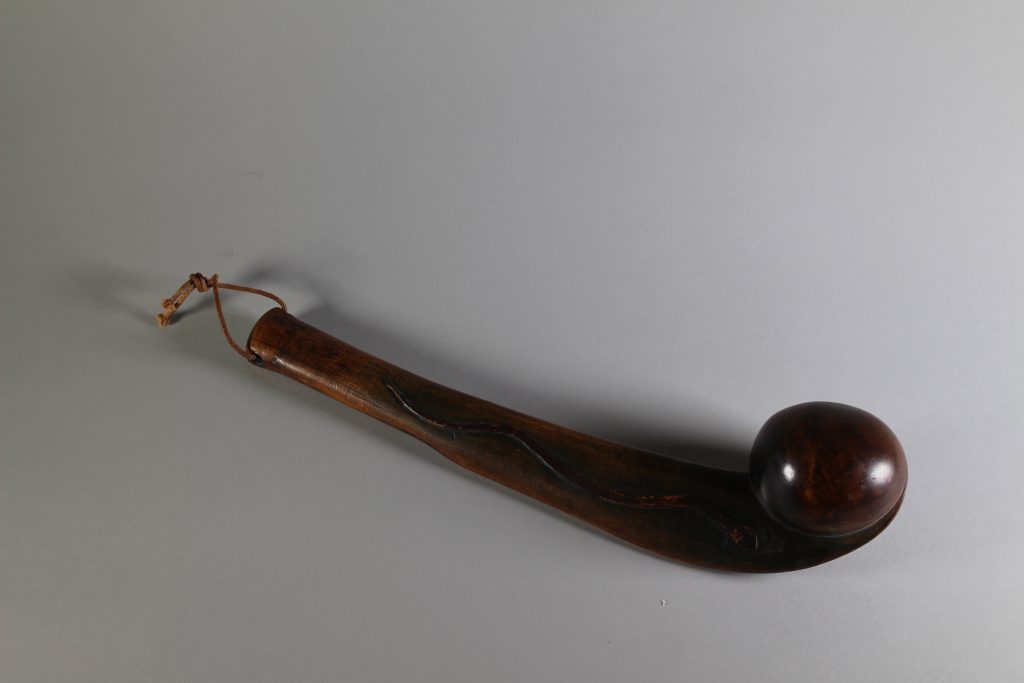 Iroquois Confederacy War Club, with carving of a snake on handle (c.1800).
Iroquois Confederacy War Club with Snake and Fish Carving
Artist: Unknown, Iroquois Confederacy.
Date: c. 1800
Created: Eastern North America, Iroquois Confederacy.
Medium: Carved hardwood
Dimensions: 38.5 cm. length
This ball-headed war club was created by an Indigenous Iroquois Confederacy artist/craftsperson from one piece of wood such as that formed by a 'burl', an irregular growth on a tree branch or root. The handle is embellished by a carving of a snake on one side and of a fish on the other, perhaps personal or clan symbols.  Such a war club was used for close combat. The Iroquois Confederacy and other First Nations were allies of the British and Canadian cause during the War of 1812 (1812-1814). The war club may have been collected by John Harris during the War of 1812 when he served with the British Navy in the Great Lakes, or it may have been collected by Amelia Ryerse's father, Colonel Samuel Ryerse (1752-1812), who served in the American Revolutionary War (1775-1783) and who settled in Upper Canada in 1794.[15]