A Visual History of Eldon House
Learn about the many family members of the Harris family and their time at the house.


John Harris b. 1782 d. 1850 Amelia Ryerse Harris b. 1798 d. 1882
John Harris, the builder of Eldon House, was born in Devon, England and, after a brief service in the merchant marine, was "impressed" (ordered) into the Royal Navy in 1803. Through active service on several ships, he rose to the rank of Master which, while not an officer's rank, was a key position on board. He was responsible for maintaining, outfitting and navigating the ship and was required to note and describe features of coastlines that had not yet been recorded on charts.
In 1813 he was assigned to a force accompanying Sir James Lucas Yeo to North America to fight the Americans on the Great Lakes. He served throughout the war, and was eventually appointed Master of the Prince Regent, a frigate nearly the size of the USS Constitution, carrying 58 guns. Following the end of the war in 1814, he was ordered to assist with a survey of the Great Lakes under Commodore Edward Owen. One of his first assignments was to survey the north shore of Lake Erie for a shipbuilding site. In the course of this work he arrived at Port Ryerse on April 10, 1815, where he met Amelia, the daughter of the Port's founder, a United Empire Loyalist named Samuel Ryerse. Samuel Ryerse had fought for the Loyalists in the American War of Independence (1776 to 1783). Both he and his brother Joseph fought with the New Jersey Volunteers. During the war he became acquainted with Colonel John Simcoe, the British commander of the Queens Rangers, also a Loyalist unit.
Following the end of the war, Samuel left for New Brunswick, where he remarried and settled for several years before he was encouraged by his friend Simcoe, now the Lieutenant-Governor of the new colony of Upper Canada, to settle in the Long Point area. He arrived there in 1795 and was soon appointed a Justice of the Peace for the London District. The Justices met four times a year in the district court house, where they administered the District government and heard court cases. Joseph was appointed District Sheriff, a position which, together with that of the Treasurer and the Clerk of the Peace, controlled the local government. Samuels' daughter, Amelia, was born at Port Ryerse. She and John were married on June 28, 1815. They lived in Kingston until 1817, when John retired on half-pay from the Navy. They then moved to a farm near Long Point in Woodhouse Township. In 1821 he was appointed Treasurer of the London District, which made him responsible for tax collecting as well as overseeing public expendi- tures such as bridge construction. The District court house was only a short distance away in Vittoria until 1825, when it was moved to London, then just a crown reserve at the forks of the Thames. John journeyed regularly to London with the Justices and other officers of the court until 1834, when his splendid new house was ready for the family.
Sarah Busby Harris

Sarah Busby Harris b. 1821 d. 1916
Sarah married Captain Robert A.G. Dalzell, 23rd Regiment, Royal Welsh Fusiliers, in 1846. She moved to England with her husband, who eventually became the Colonel of his regiment. They had six children, two of whom inherited the family title, Earl of Carnwath. They lived in Torquay.
Amelia Andrina Harris

Amelia Andrina Harris b. 1823 d. 1918
Amelia married Gilbert Griffin, a postal inspector, in 1855. His work eventually took them to Kingston, where he died in 1891. They had several children, though only one, a son Scott, survived to adulthood.
Mary Henvey Harris

Mary Henvey Harris b. 1825 d. 1898
Mary married Lieutenant George Huldman Peard, an officer in the 20th Regiment, in 1850. They had two children. She died at Easthampstead, Surrey.
Eliza Bayfield Harris

Eliza Bayfield Harris b. 1825 d. 1910
Eliza married Colonel Charles Crutchley, 23rd Royal Welsh Fusiliers, in 1851, and had six children. One of their grandsons, Victor Crutchley, won the Victoria Cross in 1916. Charles rose through the ranks, being made a general in 1876, the same year that he inherited the family estate at Sunninghill Park, near Windsor Castle. Eliza died at a spa in Germany, at the age of 87.
Charlotte Owen Harris

Charlotte Owen Harris b. 1828 d. 1854
Charlotte married Captain Edward Knight, 20th Regiment, in 1851. They and their two sons were on their way to Marseilles when their ship collided with another and sank. Edward alone survived.
John Fitzjohn Harris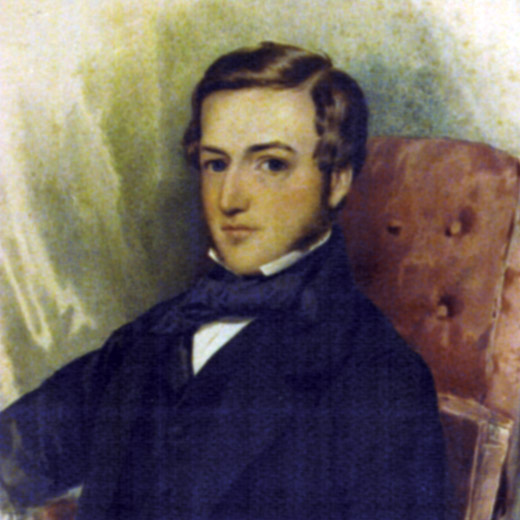 John Fitzjohn Harris b. 1830 d. 1861
John married Elizabeth Loring in 1859. A lawyer, he was briefly in partnership with his brothers Edward and George. His health was never good and he died in England, where he had gone to seek a cure.
Edward William Harris

Edward William Harris b. 1832 d. 1925 Edward married Sophia H. Ryerson in 1860. She was his cousin and the daughter of Egerton Ryerson, an important figure in the development of Upper Canada's school system. They had no children. Much of the business of the Harris Brothers law firm was the management of the Canadian investments of their English brothers-in-law. They also assisted, in 1874, with the formation of the London Life Insurance Company (now part of Great-West Life). Financial problems dogged Edward, threatening the loss of Eldon House in the late 1880s. Edward was forced to sell his house to George and he moved his family to Eldon House, where they lived with Edward and Sophia until 1889. Edward returned briefly to Eldon House in 1925, where he died.
Helen Vidal Harris

Helen Vidal Harris b. 1834 d. 1860
Helen married Maurice Portman, the younger son of Lord Portman, in 1856. They had two children. Helen died following the delivery of their third child.
George Becher Harris

George Becher Harris b. 1836 d. 1923
George married Elizabeth Lucy Ronalds, from Raleigh Township, near Chatham, in 1867. Also a member of Harris Brothers, he was later in real estate. In his youth, he was a good rower and cricket player. He and Lucy raised their four children at Raleigh House, a few blocks north of Eldon House, until Edward's financial crisis brought them back to Eldon House in 1887. Lucy's inheritance, received in the 1890s, greatly improved the family. Their children, Ronalds and Amelia (Milly), would eventually live in Eldon House.
Teresa Newcome Julia Eveleigh Harris

Teresa Newcome Julia Eveleigh Harris b. 1839 d. 1928
Teresa married her first husband William John Scott, in 1859. She accompanied him on several trips, including one to India during which he died. In 1877 she married an explorer, St. George Littledale, and with him journeyed to places rarely seen by women of European descent, including Tibet.
Amelia (Milly) Harris

Amelia (Milly) Harris b.1869 d. 1959
Milly began travelling at an early age, leaving for England at age 13 to attend school for several years and to visit her many aunts, uncles and cousins. She also visited parts of Europe, including Italy and Norway, and accompanied her parents for the whole of the 1897-98 world tour. She was an avid golfer and even played hockey with a women's team. In later life she devoted a great deal of time to community service. Milly continued to live at Eldon House, helping Ronald and his wife Lorna raise their family. Her death was followed by the decision of Ronald's three children, George, Lucy and Robin, to make Eldon House, its grounds and collections, a gift to the City of London.
George Henry Ronalds Harris

George Henry Ronalds Harris b. 1873 d. 1942
Ronald was a graduate of the Royal Military College in Kingston and the Houghton School of Mines in Michigan. Around 1900, after several years of work in British Columbia and Quebec, he signed on to an expedition to Central Africa, where he spent the next five years searching for gold and other minerals for various companies, including one of Cecil Rhodes's. It was dangerous work; one of his expeditions was massacred while he was back in Canada, and he was once taken prisoner by the Abyssinians for four months. However, he did manage to collect many specimens of African tribal life – mainly weapons – which he would periodically ship back to Eldon House, together with several big game trophies. Ronald installed the collection in the front and back halls soon after his return, where they have remained ever since. He also worked in Mexico, Bolivia and Europe before retiring in the early 1920s. Ronald married Lorna Gibbons, the daughter of Sir George Gibbons, a prominent London lawyer, in 1908. They had three children: George, born in 1910; Amelia Lucy, born in 1913; and Ronald Sutton (Robin) born in 1919.
Edward Montgomery (Teddy) Harris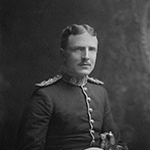 Edward Montgomery (Teddy) Harris b.1880 d. 1952
Edward, Ronald and Milly's younger brother had a distinquished career in the British army before retiring in the 1930's. He and his wife, the former Annie Breaky of Quebec City, had no children.
The Great Grandchildren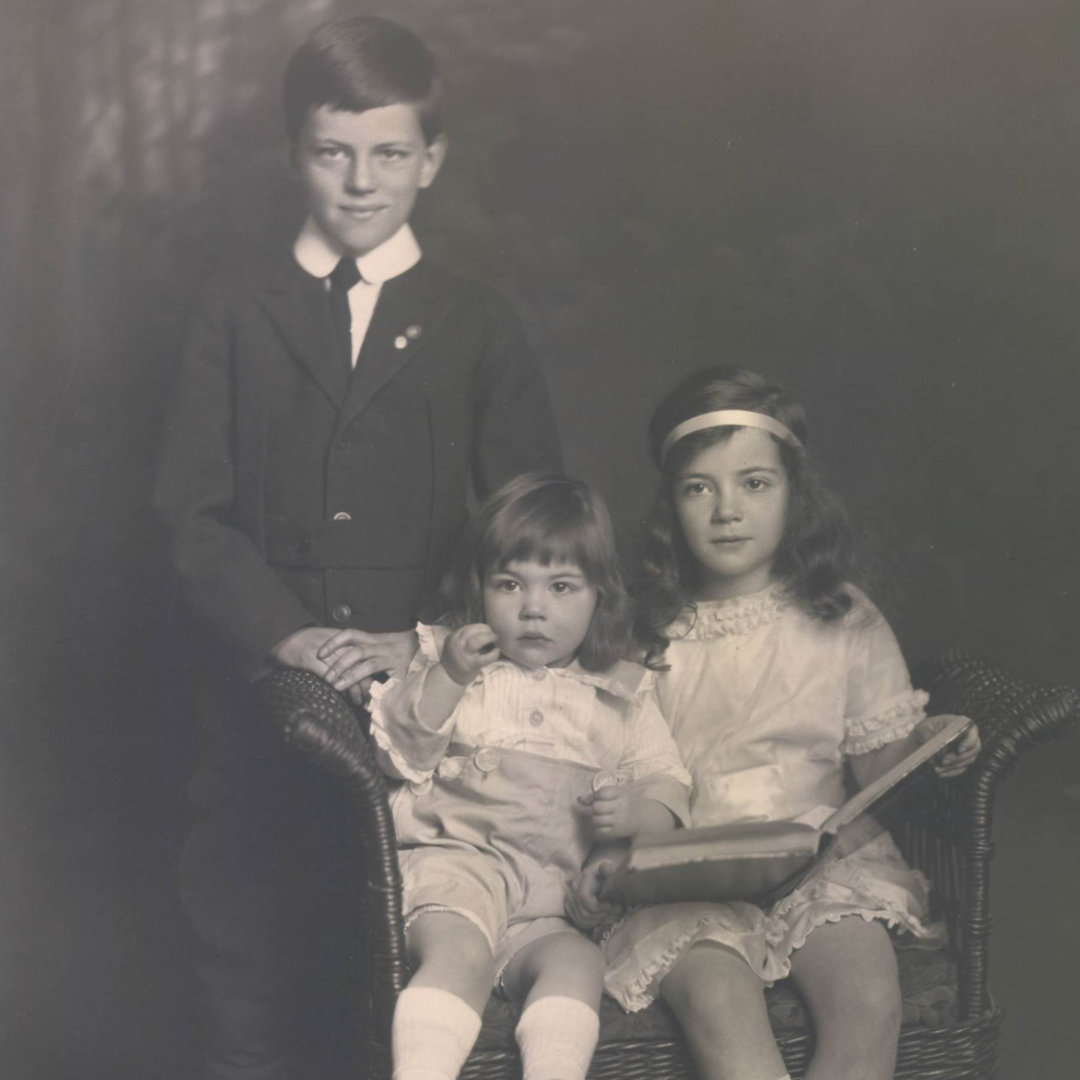 The great-grandchildren mentioned on the Eldon House website, are the children of Ronald and Lorna Harris, who were raised in the house. There are more great-grandchildren internationally. George, following his overseas service in WWII, retired to a life of philanthropy in Toronto. Robin married and left for Toronto, where he became a Professor of Education. Lucy married a London lawyer, Frank Little, a grandson of J. W. Little, a London dry goods wholesaler, and lived near London.
Education programs and tours are offered all year round for students and groups of all ages. Click below to find out more!