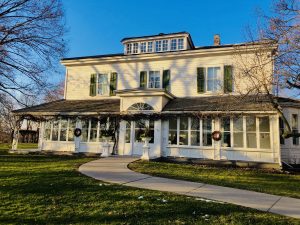 Inspired by Nature explores the complex relationship between design and nature as seen in works from diverse cultures, and which date from the seventeenth to the early-twentieth century. The works are drawn, with one exception, exclusively from the collection of Eldon House Heritage Site and Gardens, a historic house museum in London, Ontario.  Originally, it was the home of John and Amelia Harris and their descendants from 1834 to 1960 when the house, along with many of its' contents and eleven acres of land, was donated to the City of London to be a museum.
The individual stories of the artifacts and the research for this exhibit has revealed much about Harris family history, their collecting habits as early Canadians and as late-nineteenth century tourists, as well as the relationship between design and nature in the nineteenth century as revealed in the works themselves.
Many of the artifacts  included in this exhibit were collected by the Harris family during a period of Western colonialism. Examining these colonial artifacts tells us about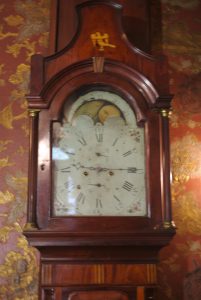 Victorian life and beliefs. It also forces us to confront ideas that we may find difficult and to ask challenging questions, such as, who do these artifacts benefit, hurt or ignore, and to question how and why such artifacts come to be here. Looking closer at these questions gives us a glimpse into the privilege that the Harris' family enjoyed, not only in their wealth which allowed them to travel extensively, but in their lifestyle, education and work choices.  Ronald Harris worked as a mining engineer for a European-based  company. Several of the artifacts in this exhibit were collected in colonial Africa by Ronald as he travelled across tribal lands on a mining survey as documented in his letters to his employer. This allowed Ronald to employ and trade for artifacts with indigenous African people, and to actively engage in big game hunting and 'trophy' collecting. Today we may see these activities and collecting as difficult issues, involving possible exploitation and destruction of the environment, indigenous culture, people, and animals.  Eldon House and this exhibit believes it is important to display and discuss its artifacts with colonial associations because it helps us to examine the time period, ask and engage with important questions and learn from the answers.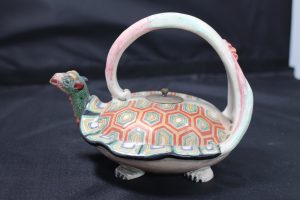 Further, this exhibit Inspired by Nature, strives to be inclusive and respectful of artifacts and their cultural origins and, when possible, to honour the artists and makers of the artifacts. It invites the viewer to think about the artist-maker, whether Japanese potter, indigenous craftsperson, or Canadian weaver, and to consider how the design, construction, and meaning of the work may have been inspired by the plant and animal kingdoms, and how this might bring us closer to our natural world.