The Boston Cooking-School Cook Book
                                                                                                                                   Author: Fannie Merritt Farmer
                                                                                                          Published: Little, Brown and Company Boston 1918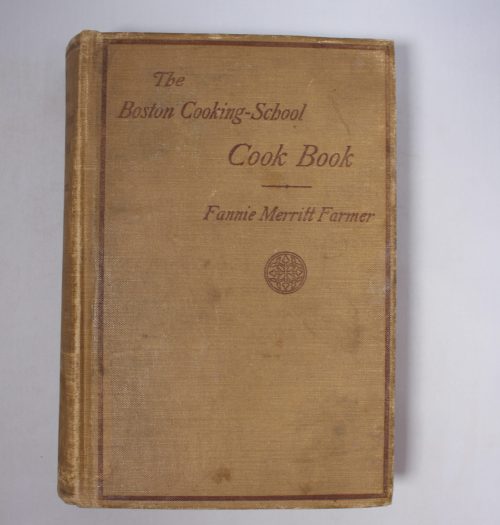 Physical Description: The cover to this book is a mustard brown colour with a brown border around the edge. On the inside cover there is an inscription. It reads: "Edith Biddle 266 Indian Road, Toronto, ON." The title page has the title at the top followed by the author's name and a list of her other books below. In the center it states that this is a revised edition with additional chapters on canning. It also mentions that there are over 133 illustrations. The publisher's information is at the bottom of the page. On the adjacent page there is a black and white image of a formal table setting. The book has 656 pages and is 7.75 inches long by 5.5 inches wide and 2 inches thick. On the inside of the back cover there is a cut out for a chocolate desert recipe.
Subject: This cookbook contains recipes for a variety of items not limited to proteins, soups, vegetables, potatoes, hot puddings, cold desserts, cakes, canapés, and can-ning. Unlike some of the earlier cookbooks, this one provides nearly exact measurements for the recipes, and includes detailed instructions. The last chapter is all about helpful hints for a young house-keeper, and goes through several simple recipes as well as instructions on how to keep your house clean and implements. There are some interesting advertisements at the back of the book.
                                                                                                                                                                Canapés
Canapés are made by cutting bread in slices one-fourth inch thick, and cutting slices in strips four inches long by one-half inches wide, or in circular pieces. Then                bread is toasted, fried in deep fat, or buttered and browned in the oven, and covered with a seasoned mixture of eggs, cheese , fish or meat, separately or in                  combination. Canapés are served hot or cold, and used in place of oysters at dinner or luncheon. At a gentleman's dinner they are served with a glass of Sherry                                                                                                                                                     before entering the dining room.