Special Hours: December 17 and 18
Eldon House will have special hours on December 17 and 18. Eldon House will be closed for the part of the day for our Ghost of Christmas Past Tours. Eldon House will be open for self-guided tours from 3:00-5:00 both days. Please note, that the last entry is at 4:45.
Downtown Loop Construction
The Downtown Loop project for the Rapid Transit System has begun in the core, and construction impacts Ridout Street and the surrounding area. There is a road closure from just north of Fullarton St. to the corner of Ridout St. and Queens Ave. While there is a road closure, Eldon House remains open and accessible via our main gate, located on Ridout and Fullerton. The included map shows the path of construction.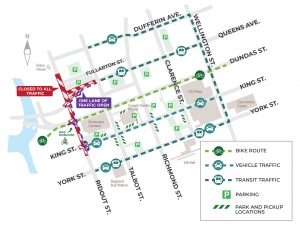 Various surrounding parking lots are accessible, and the City of London is offering discounts on municipal lots using the Honk app. The passcode 'CORE' will allow visitors to access free parking for two hours in designated lots.
More information on the construction, as well as updates and contact information can be found here: https://getinvolved.london.ca/downtownloop 
Eldon House is reopen for public visits! Visitors are welcome inside the museum from Wednesday-Sunday from 12:00-5:00 p.m. Contact tracing information and screening questions will be collected by staff members at the door. COVID-19 procedures such as masks and social distancing are still in effect.
Eldon House will not be hosting our traditional Canada Day celebration this year. Members of our communities are mourning after the discovery of unmarked graves at residential schools across Canada, and in light of the recent terrorist attacks in London. We will be taking this year to reflect on the future of Canada Day and lend support to our community. Please click the link below to read the collective statement issued by local museums and the London Heritage Council on Canada Day.
Under Ontario's Roadmap to Reopening Plan, museums are not able to open for indoor tours or events until Phase 3. As a result, Eldon House is currently unable to host indoor events and tours. If you are interested in exploring Eldon House virtually, please contact us at info@eldonhouse.ca for more details.
Eldon House is taking steps to ensure the safety of our staff, volunteers and visitors during COVID-19. At this time we will be open by appointment. Appointments can be scheduled by calling us at 519-661-5169 or emailing us at info@eldonhouse.ca.
Your experience at Eldon House will be different than what you are used to, as we have implemented a number of safety protocols. Visitor groups must be kept to six persons or smaller. Each person in the group is asked to self-screen at home before their visit and will be screened by museum staff before entry. Face coverings are required when touring the museum and must be worn properly the entire time.
In addition, Eldon House will not be hosting our Annual Summer Tea in 2020, but will hopefully resume service in 2021.