Truth and Reconciliation Day
Eldon House will be closed on Saturday, September 30, 2023 for Truth and Reconciliation Day. Eldon House would like to encourage patrons to participate in Truth and Reconciliation Day events happening in the community. Eldon House will resume regular hours of operation on October 1.
Eldon House Accessibility
Eldon House Heritage Site and Gardens endeavors to provide its services and programs in a way that respects the independence and dignity of all persons and encourages integration and equality of opportunity. This document sets out the provisions and actions that Eldon House has undertaken to ensure that all visitors with disabilities are given the same opportunity to access and benefit from our services in a similar way as other customers whenever possible. For details on accessibility, please read our Accessibility Plans:
Eldon House Detailed Accessibility Plan 2023-2025
Special Hours: December 17 and 18
Eldon House will have special hours on December 17 and 18. Eldon House will be closed for the part of the day for our Ghost of Christmas Past Tours. Eldon House will be open for self-guided tours from 3:00-5:00 both days. Please note, that the last entry is at 4:45.
Downtown Loop Construction
The Downtown Loop project for the Rapid Transit System has begun in the core, and construction impacts Ridout Street and the surrounding area. There is a road closure from just north of Fullarton St. to the corner of Ridout St. and Queens Ave. While there is a road closure, Eldon House remains open and accessible via our main gate, located on Ridout and Fullerton. The included map shows the path of construction.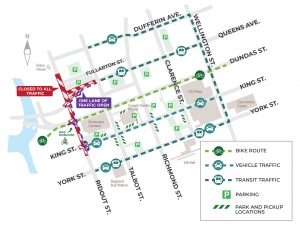 Various surrounding parking lots are accessible, and the City of London is offering discounts on municipal lots using the Honk app. The passcode 'CORE' will allow visitors to access free parking for two hours in designated lots.
More information on the construction, as well as updates and contact information can be found here: https://getinvolved.london.ca/downtownloop