Amelia Harris Art Contest!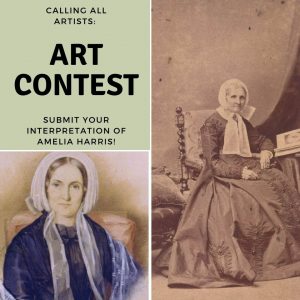 Calling All Artists!
Eldon House is hosting an art contest inspired by our matriarch, Amelia Ryerse Harris! Amelia was one of the founders of Eldon House and one of London's most influential citizens in the 19th century. Unfortunately, there are few historical images of Amelia. We're inviting artists to submit their artistic interpretation of Amelia in whatever medium they would like.
Submissions for the art contest will be posted to our social media for voting and the winner will receive a prize!
Submissions must be sent to info@eldonhouse.ca, subject heading Amelia Harris Art Contest. Please include your name and any social media handles in the body of the email. Submissions must be sent as a jpeg image. All entries are due by February 25 at 5:00 p.m.
Proof of Full Vaccination Required
Eldon House continues to follow and adjust our COVID-19 procedures and policies after vigorous review in order to align and in some cases exceed the guidelines set by the London Middlesex Health Unit and by the Provincial government including:
Reduced capacity limits
Social distancing
Contact tracing
Screening questions
Mandatory mask requirements
Sanitation stations accessible to the public
Sanitation of high touch surfaces
The Eldon House guidelines applies to all events, workshops and general entrance to the museums by all Eldon House stakeholders. We continue to align our procedures and policies and there will be changes scheduled to take effect as of November 17, 2021:
Eldon House requires that all patrons, staff, volunteers and anyone entering the building must provide proof of full vaccination along with a valid piece of government issued photo ID.
Proof of vaccination must also take place upon arrival to the site in order to participate in any of our specialty tours, educational programs, adult programming and workshops.
Guests must be fully vaccinated a minimum of two weeks prior to partaking in any of our programming.
Exemptions include children 12 and under. We will accept recognized limited exemptions set out by the local and provincial health authorities.
Eldon House continues to limit our capacities, taking contact tracing information upon arrival and asking screening questions.
While at this time museums are not required by the Ontario Government to have proof of vaccination for all visitors Eldon House has implemented a vaccination policy to further safeguard our patrons and stakeholders so all ages and at risk individuals have an opportunity to engage.
Eldon House is reopen for public visits! Visitors are welcome inside the museum from Wednesday-Sunday from 12:00-5:00 p.m. Contact tracing information and screening questions will be collected by staff members at the door. COVID-19 procedures such as masks and social distancing are still in effect.
Eldon House will not be hosting our traditional Canada Day celebration this year. Members of our communities are mourning after the discovery of unmarked graves at residential schools across Canada, and in light of the recent terrorist attacks in London. We will be taking this year to reflect on the future of Canada Day and lend support to our community. Please click the link below to read the collective statement issued by local museums and the London Heritage Council on Canada Day.
Under Ontario's Roadmap to Reopening Plan, museums are not able to open for indoor tours or events until Phase 3. As a result, Eldon House is currently unable to host indoor events and tours. If you are interested in exploring Eldon House virtually, please contact us at info@eldonhouse.ca for more details.
Eldon House is taking steps to ensure the safety of our staff, volunteers and visitors during COVID-19. At this time we will be open by appointment. Appointments can be scheduled by calling us at 519-661-5169 or emailing us at info@eldonhouse.ca.
Your experience at Eldon House will be different than what you are used to, as we have implemented a number of safety protocols. Visitor groups must be kept to six persons or smaller. Each person in the group is asked to self-screen at home before their visit and will be screened by museum staff before entry. Face coverings are required when touring the museum and must be worn properly the entire time.
In addition, Eldon House will not be hosting our Annual Summer Tea in 2020, but will hopefully resume service in 2021.