London Clean and Green 2023
Saturday, April 22, 1:00 to 4:00 p.m.
Volunteer Opportunity
Eldon House Grounds
Registration Required |
Registration Policy
Come and Celebrate Earth Day by helping to clean the grounds of London's oldest residence! Participate in the London wide volunteer initiative to keep London Clean and Green! The event is free and the museum is open for self-guided tours from 12:00 to 5:00 p.m. Every little bit helps keeping our plant clean and green!
For more information about the city wide initiative please click here and visit the London Clean and Green website for a list of the additional participating site and partners.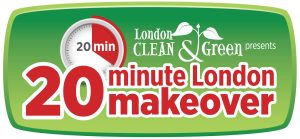 Gloves and garbage bags will be provided to participants. 
Mask or face coverings are encouraged indoors and outside.
Social distancing measures of 6 feet will be maintained between staff and fellow visitors as much as possible.
As a heritage site there is no public parking. there is public parking in and around the museum. Click here for Google Maps of Eldon House 
Please be aware that if the event is postponed or canceled guests will be notified in advance as soon as possible.